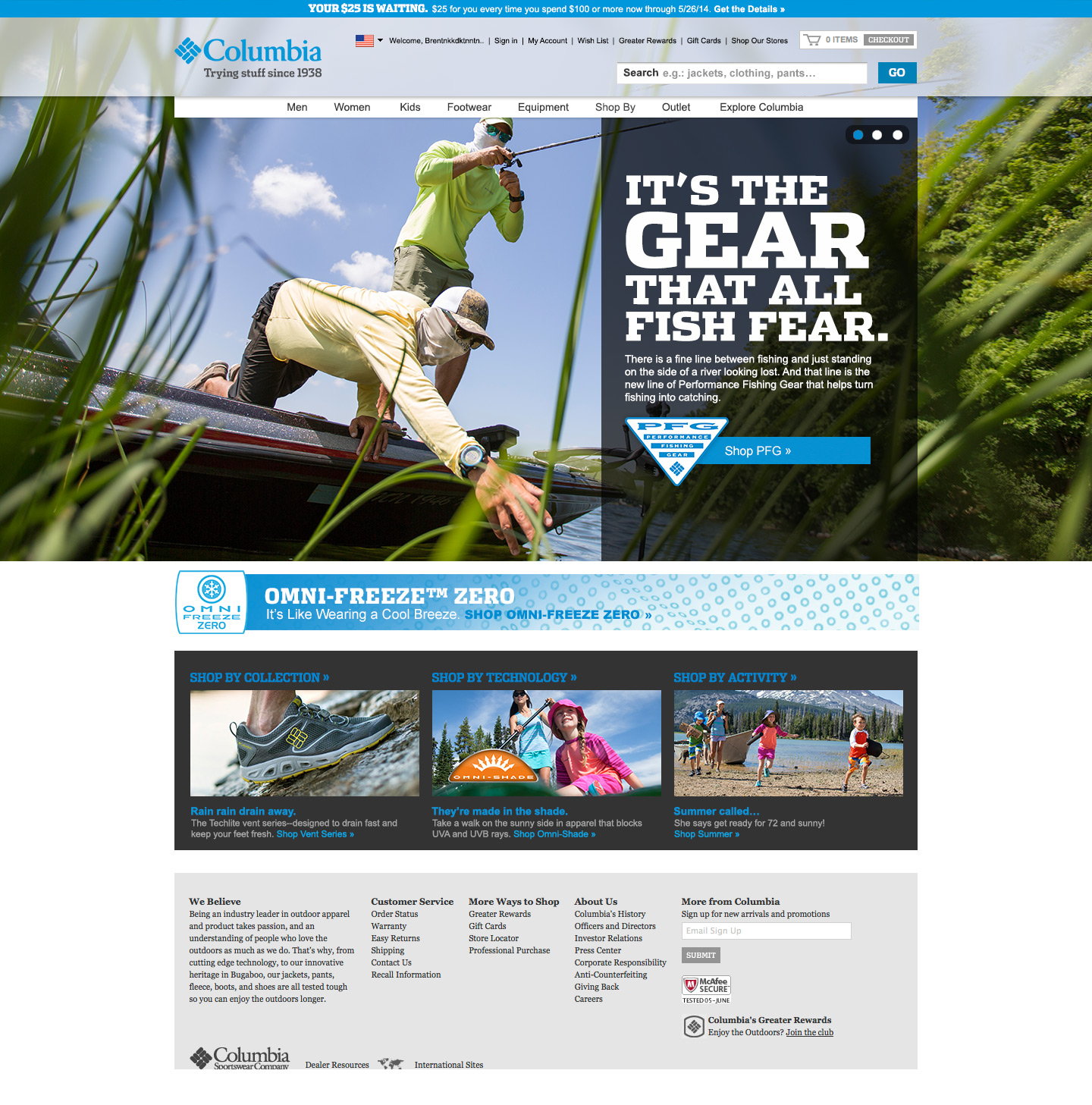 IT'S THE GEAR THAT ALL FISH FEAR.
There is a fine line between fishing and just standing by the side of a river looking lost. And that fine line is the new line of Performance Fishing Gear that helps turn fishing into catching.
We needed a message that spoke to those who eat, sleep and drink fishing. I came up with a headline that fit that attitude and that spoke to the entire line of Performance Fishing Gear. The copy is a breakdown of a classic fishing joke, but one that also makes sense if you've never heard the joke. The headline was universally loved and adapted by the brand teams and used everywhere.

IT'S LIKE HIDING IN BROAD DAYLIGHT.
Fish aren't spooked by what they can't see. And if what they can't see is you wearing UV activated camo and waving a giant stick, then it's too late, they've already bit.
To a fish, this super-expensive and awesome shirt disappears in the sun. So I wrote a line that is a spin on a slightly idiomatic phrase that works great next to a man who is clearly in plain sight. The copy speaks to the hardcore and is aspirational to the enthusiast. This email out-performed expectations by several hundred units.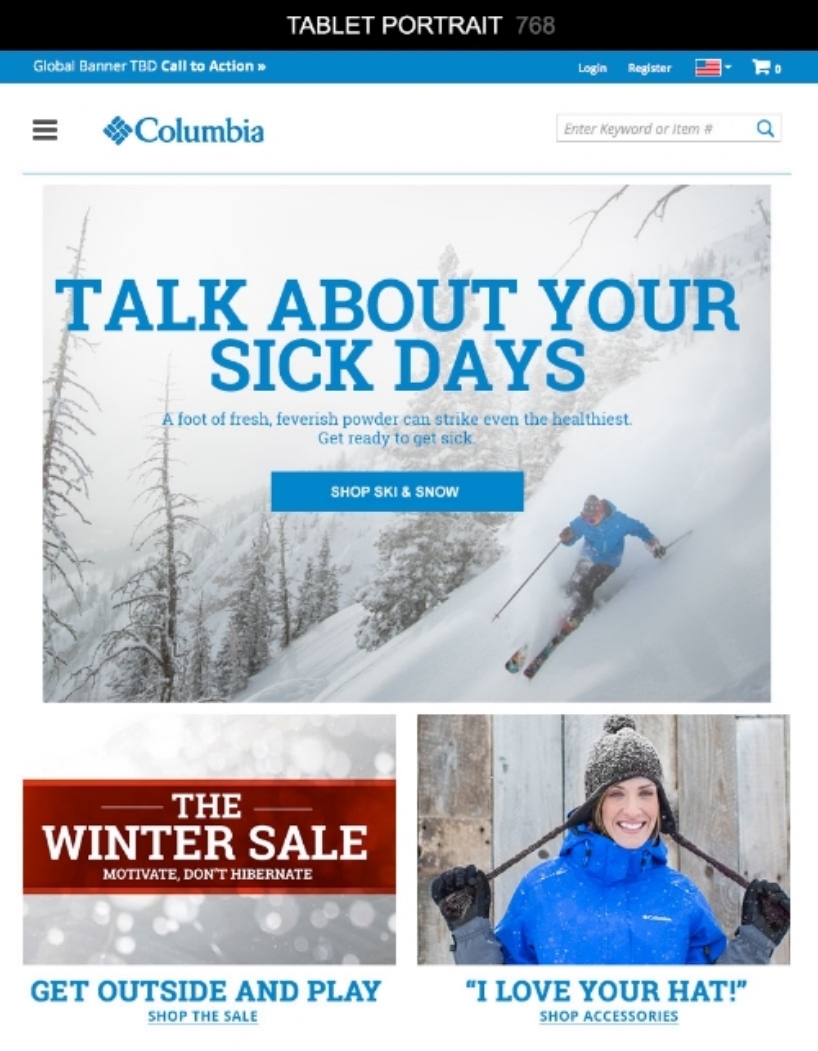 TALK ABOUT YOUR SICK DAYS.
A foot of fresh, feverish powder can strike even the healthiest. Get ready to get sick.
The buyers had a lot of hats left, hats they thought would sell like hotcakes, and asked that we dedicate part of the next email to helping them clear some of them out. I put "I love your hat" in quotes to speak to both the awesomeness of the hat and the way it'll make you feel. Everyone loves a compliment. At the time I wrote it it was the most successful "sub-hero" in both clicks and sales.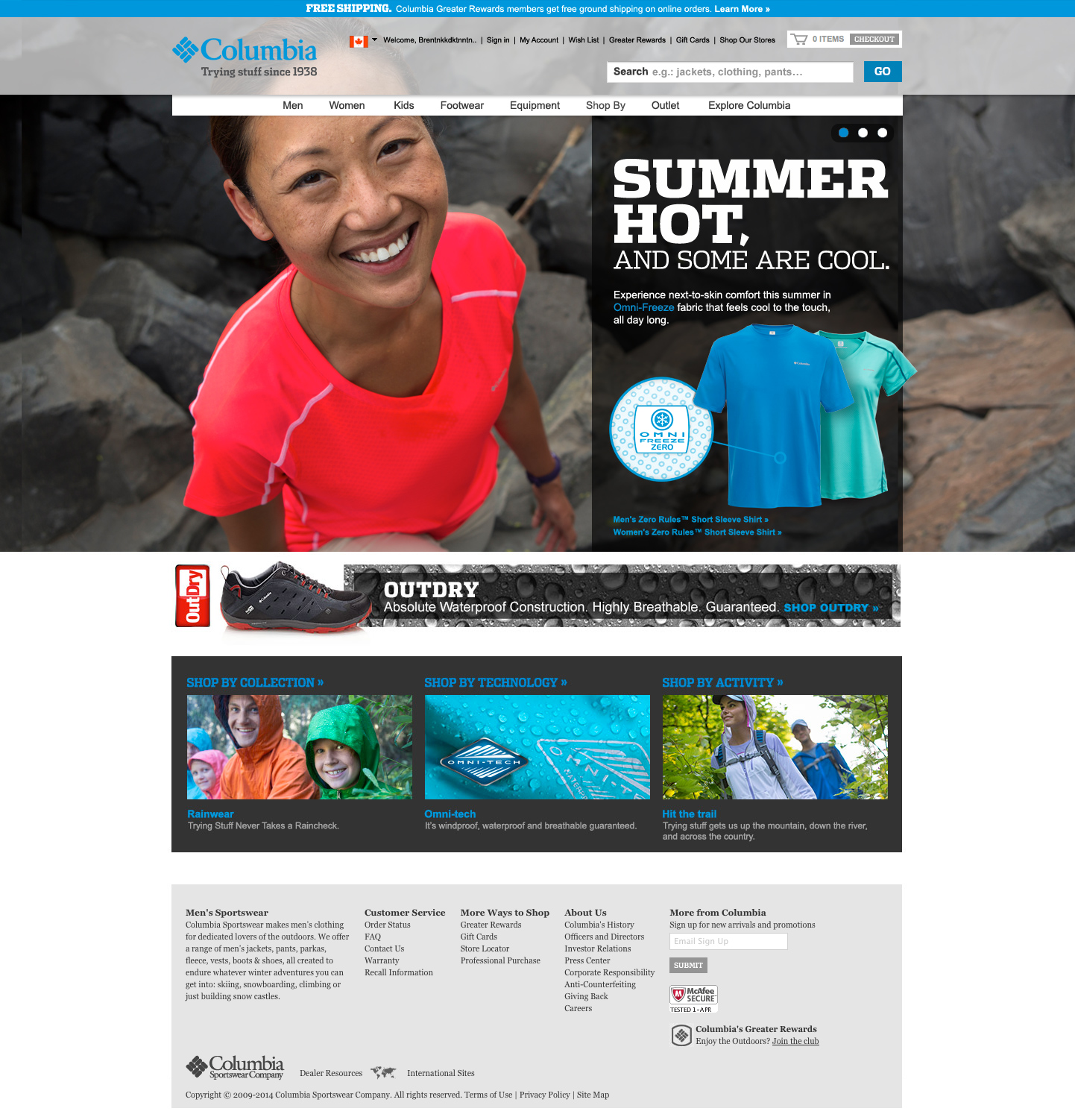 SUMMER HOT. AND SOME ARE COOL.
Experience next-to-skin-comfort this summer in Omni-Freeze fabric that feels cool to the touch, all day long.
I know some people frown on word play, but not the people on this mailing list, they are used to it. Anyway, we needed a line that got us thinking about the hot weather ahead and how comfortable it is to be cool. This was the "B" in an A-B test, both emails sold essentially the same, but this line got a lot more shoppers, more eyeballs that could turn into sales at a later, warmer date.
Shirts that say "SHOO!"
Insect Blocker Apparel, the ultimate alternative to repellents and lotions.
For a shirt that repels insects, this was the perfect line, and one that worked as the perfect bridge to the next product on the page, the one closer to the fold, the subtle push that gets our reader that much more likely to see all the content.
THESE COLORS DO RUN
Our bold, new colors aren't the new black, they're the new fast.
Montrail, they are the runners' shoe. But they only had 12 products from which to choose. And in this season the only thing that was new was their colors. So we did a color story. Montrail eventually was brought under the Columbia brand.

It's Between You And The Elements
Performance layering, the dependable solution to an unpredictable forecast.
Mountain Hardwear wanted to tell their layering story, and they like to talk to the people who climb ice and rock, the hardcore. So I came up with a line that speaks to both the layers themselves and to the attitude that all mountaineers share. The elements will kill you if you're not prepared.
TRAIL CALLED. SAID HIT IT.
And if you hit it in a shoe with FluidFoam you'll never feel it hitting you back. Introducing the new FluidFeel II, the ultimate all-terrain running shoe.
The client wanted to tout their super-comfortable FluidFoam technology. I came up with "hitting the trail," a line that speaks to the obsessed trail runners who hear voices and to the comfort of these shoes throughout the gait cycle, specifically the heel strikes.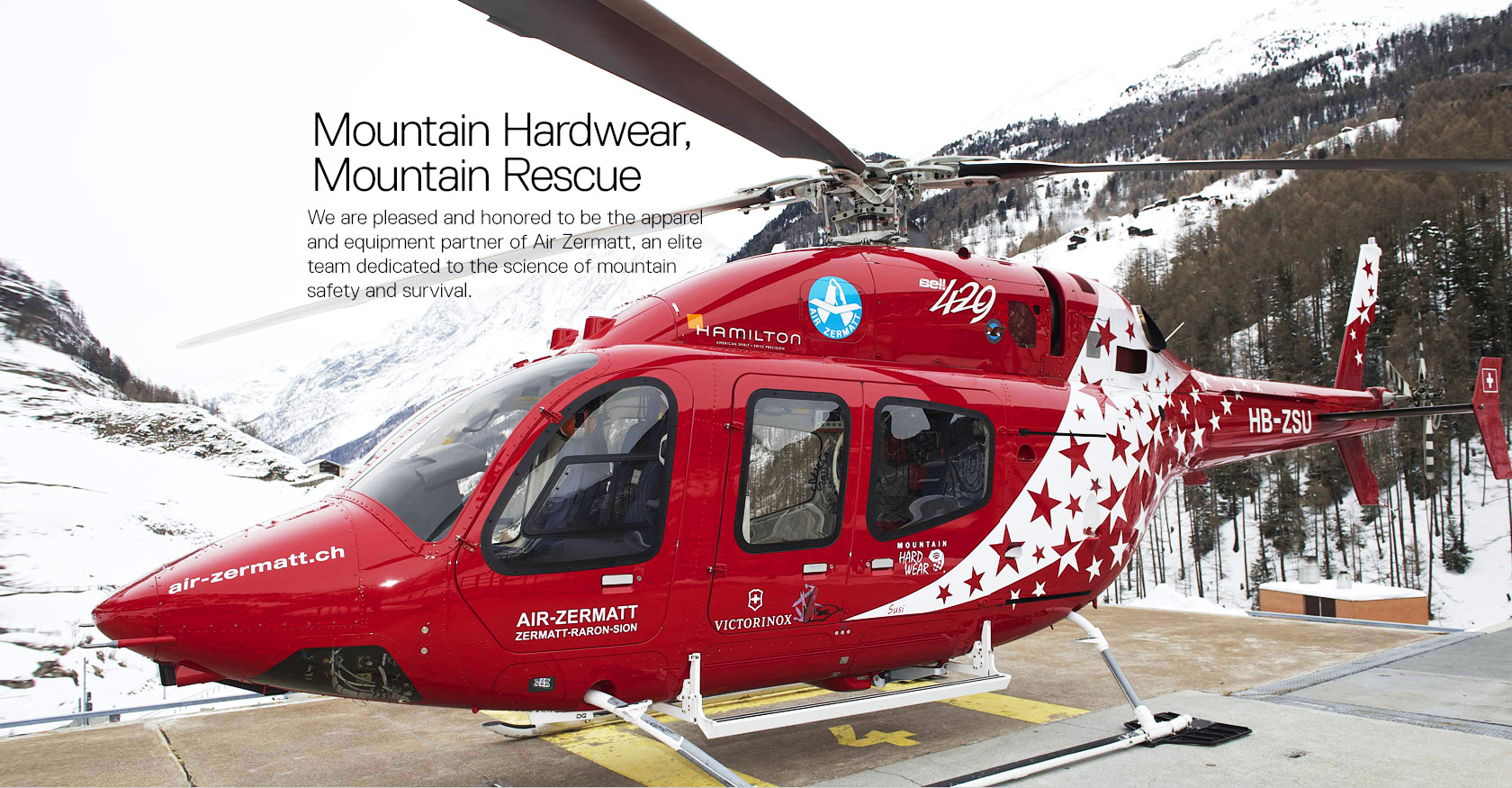 MOUNTAIN HARDWEAR, MOUNTAIN RESCUE.
We are pleased and honored to be the apparel and equipment partner of Air Zermatt, an elite team dedicated to the science of mountain safety and survival.
Hardwear wanted to announce a new partnership. They loved the cadence of this line and the way it associated itself to mountain safety and to the men and women who lay it all on the line to save stranded climbers. I love that they didn't want to sell anything on this one. Keeping it real.
adidas
I wrote this banner way back when with Razorfish. The client asked for a line that spoke to distance runners in general and to marathoners specifically.
This one came to me when I was driving home, slowly. The client loved it, which was great as it was my very first assignment with Razorfish, back when it was called something else.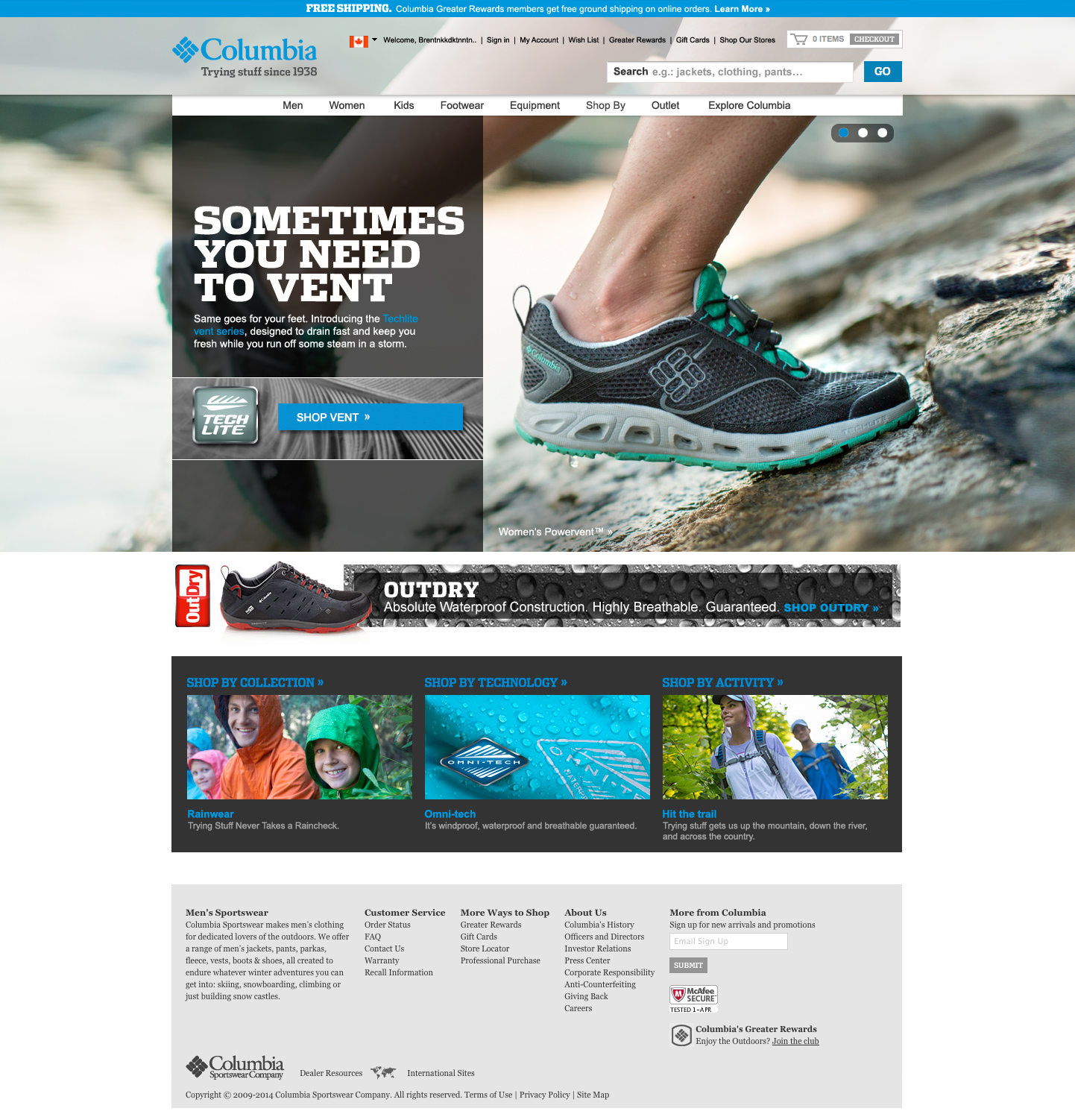 SOMETIMES YOU NEED TO VENT.
Same goes for your feet. Introducing the techlite vent series, designed to drain fast and keep you fresh while you run off some steam in a storm.
Columbia loves footwear that drains and vents, they sell a lot of them. They loved this line because it spoke to hardcore runners who run in all conditions, to runners who run to reduce stress, and, of course, to the technology in the shoes. And the product shot.
e-comm