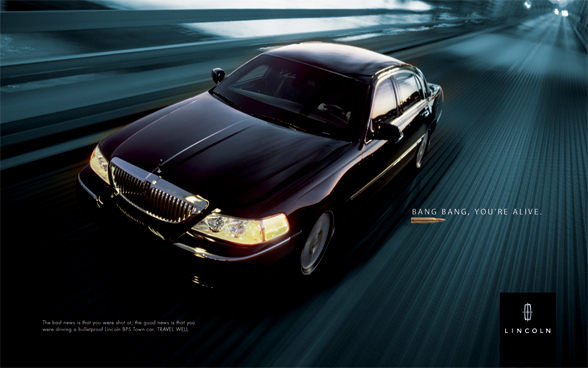 Lincoln Motor Company
BANG BANG, YOU'RE ALIVE.
The bad news is that you're being shot at. The good news is that you're driving a bulletproof Lincoln BPS Town Car. TRAVEL WELL.
Published in Security Digest, and trades around the globe, this B2B print campaign was aimed at big-time security providers. The other teams passed on it because it didn't have a shoot attached to it. This client was wholly unknown to the agency, his office was in the basement, below grade at Ford's world HQ's and featured real wood paneling. He had dug into that foxhole a long time ago and had a war story that to this day makes me wince. Anyway, the clients upstairs never would have bought this work, but he loved it, said it was the best he's ever produced.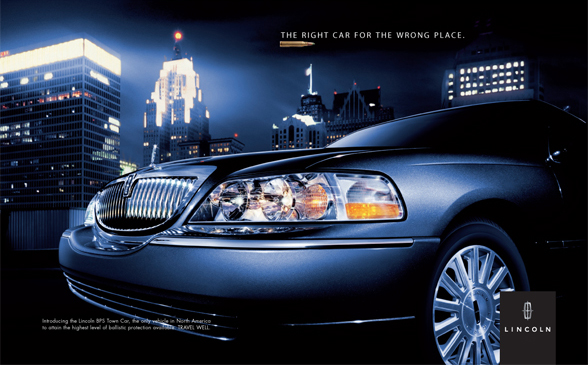 Lincoln Motor Company
THE RIGHT CAR FOR THE WRONG PLACE.
Introducing the Lincoln BPS Town Car, the only vehicle in North America to attain the highest level of ballistic protection available. TRAVEL WELL.
Crazily enough, my partner, Carlos, had witnessed two drive-by shootings. The bullet in the headline was his idea, as soon as i saw it i knew it was perfect, and the client loved it.
Lincoln Motor Company
THE FORECAST CALLS FOR LEAD.
Escape the heavy weather in a bulletproof Lincoln BPS Town Car, a luxury sedan that performs under the gun. TRAVEL WELL.
In all of Ford's history, this is their only car ad that doesn't have a car in it. The first, and no doubt last. His bosses didn't like that he ran it, but it was the right decision. That and this image was in the group of photos that at one point had been Ford tested.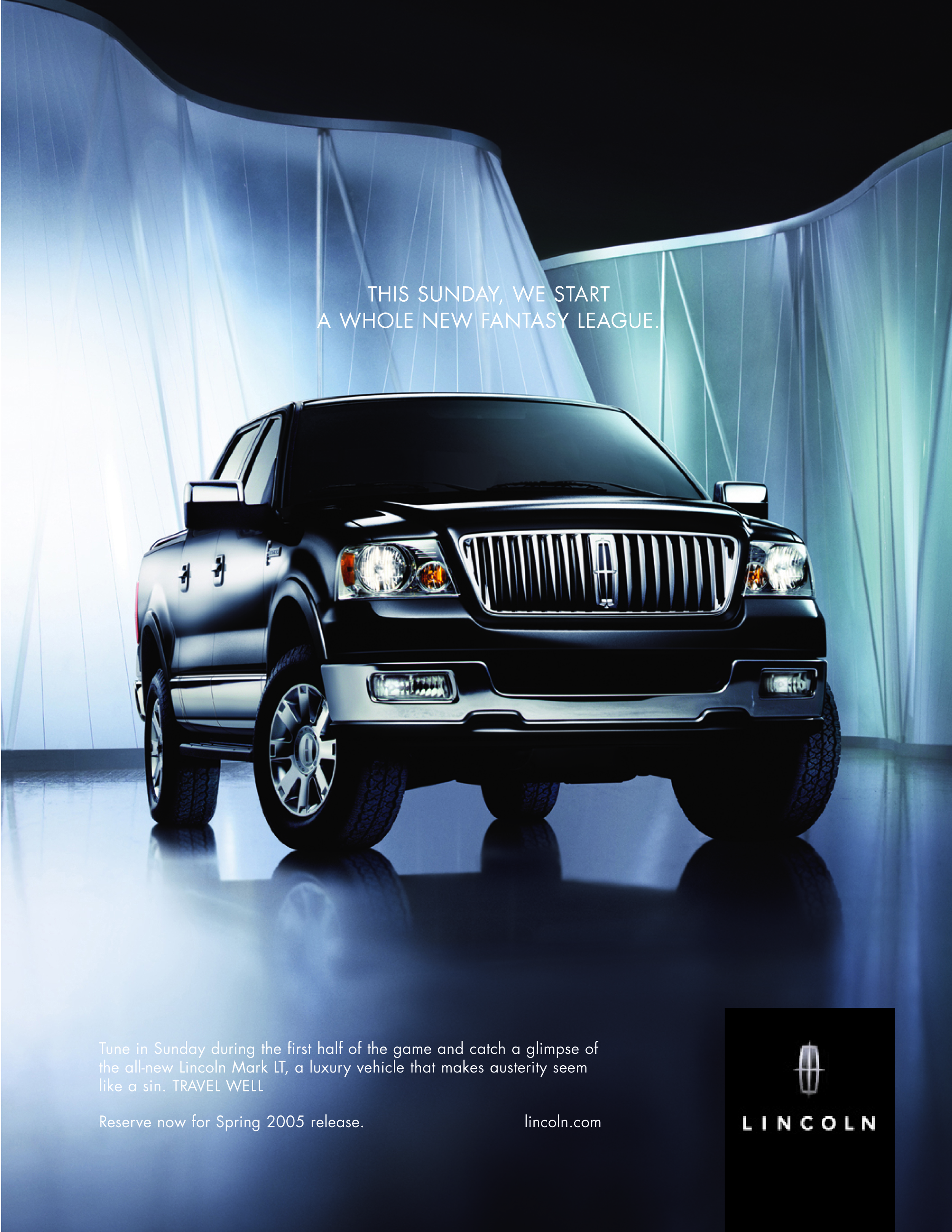 Lincoln Motor Company
THIS SUNDAY WE START A WHOLE NEW FANTASY LEAGUE.
Tune in during the first half of Sunday's big game and catch a glimpse of the all-new Lincoln Mark LT, a luxury vehicle that makes austerity seem like a sin. TRAVEL WELL.
This one, and the two that follow were to run in the dailies before during and after the Super Bowl, supporting the Super Bowl spot, directed by Tarsem Singh. But the spot got pulled because it was too controversial. It ran on every news channel in the country, for free. The client loved that. But my mom was kinda bummed, she really wanted to see it during the game.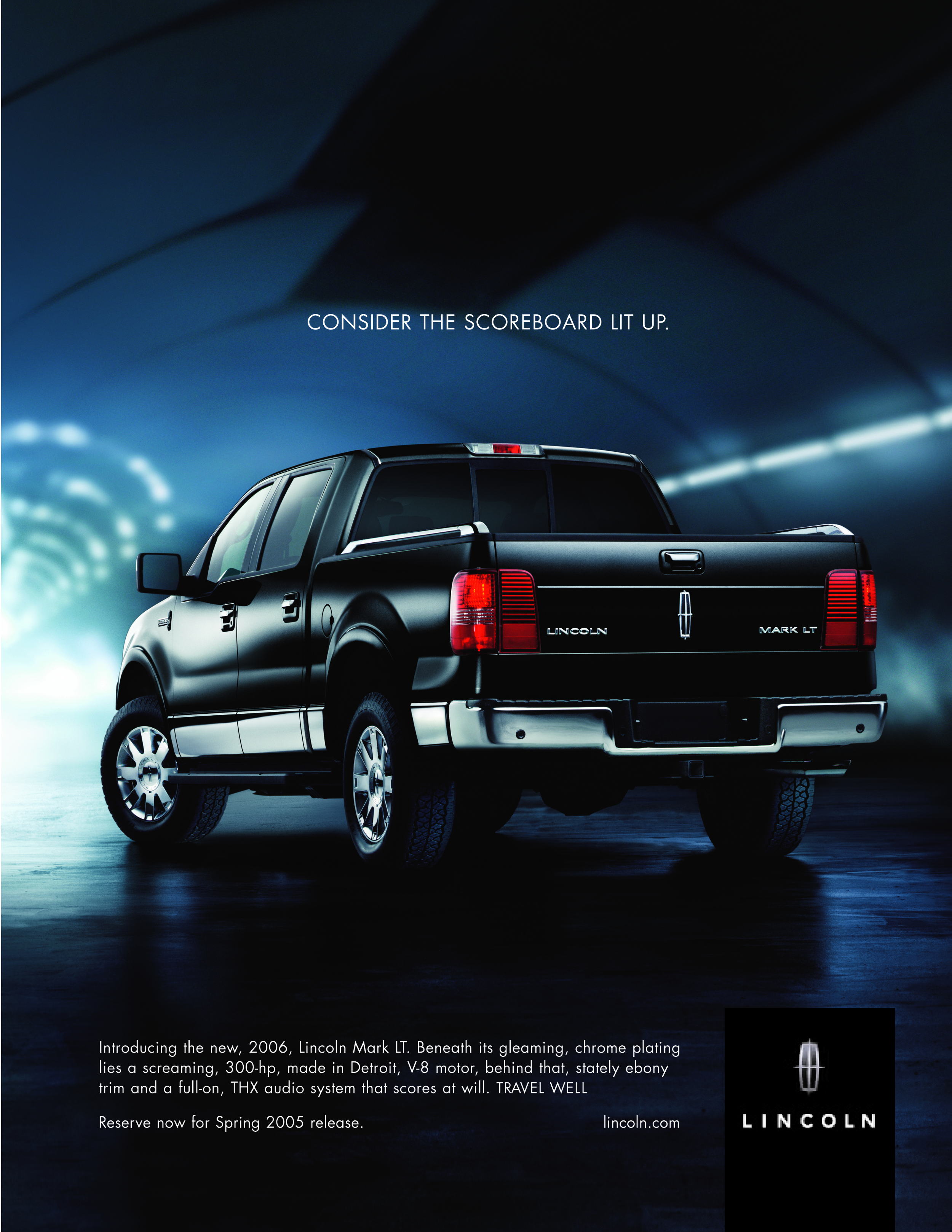 Lincoln Motor Company
CONSIDER THE SCOREBOARD LIT UP.
Behind the shiny chrome is a powerful V-8. Inside the cab, ebony trim and a THX sound system that scores at will. It's the all-new Lincoln Mark LT. TRAVEL WELL.
This is ad number 2, again for the dailies, to run on Super Bowl Sunday, to compliment the TV spot.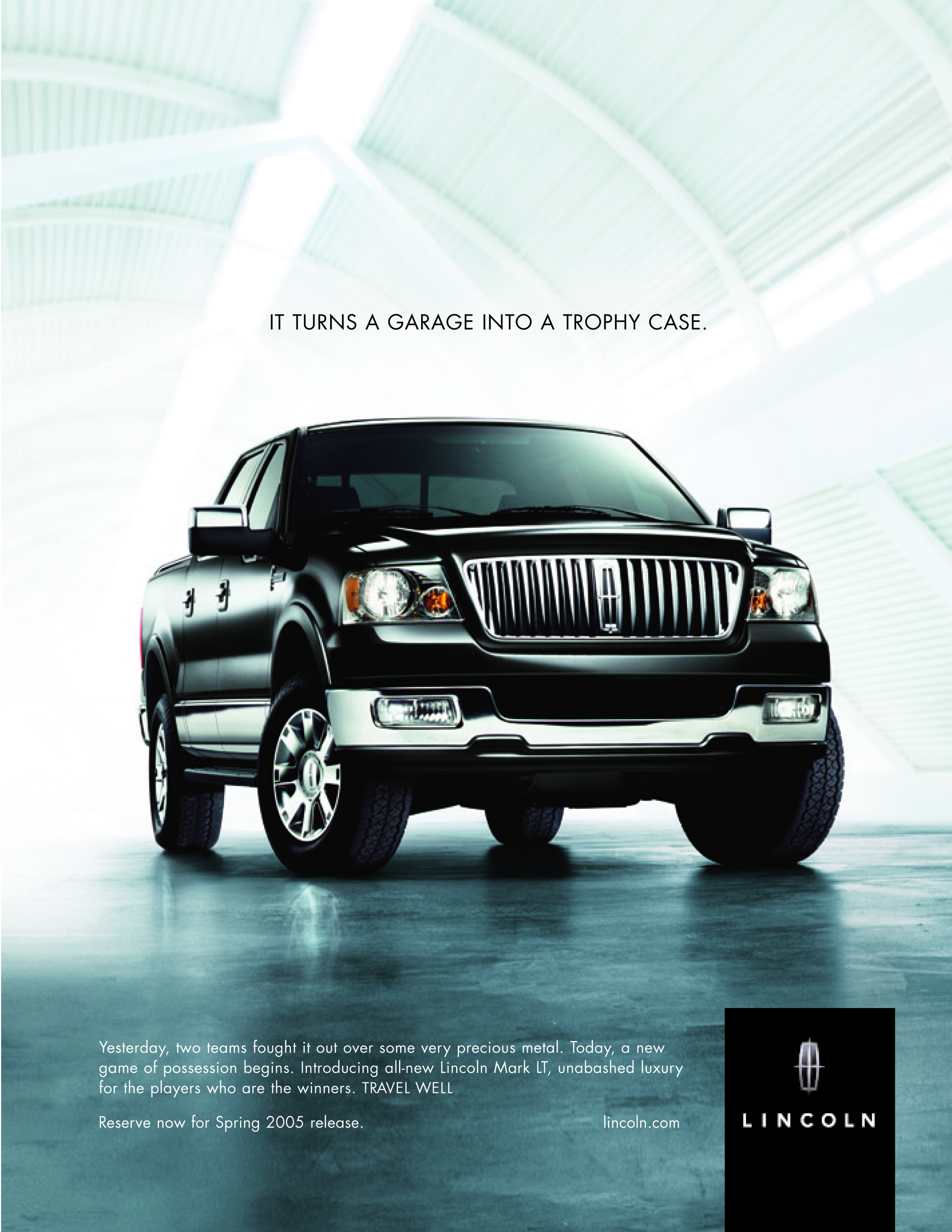 Lincoln Motor Company
IT TURNS A GARAGE INTO A TROPHY CASE.
Yesterday, two teams fought it out over some very precious metal. Today, a new game of possession begins. Introducing the all-new Lincoln Mark LT. TRAVEL WELL.
This is ad number 3, and it ran the day after the Super Bowl.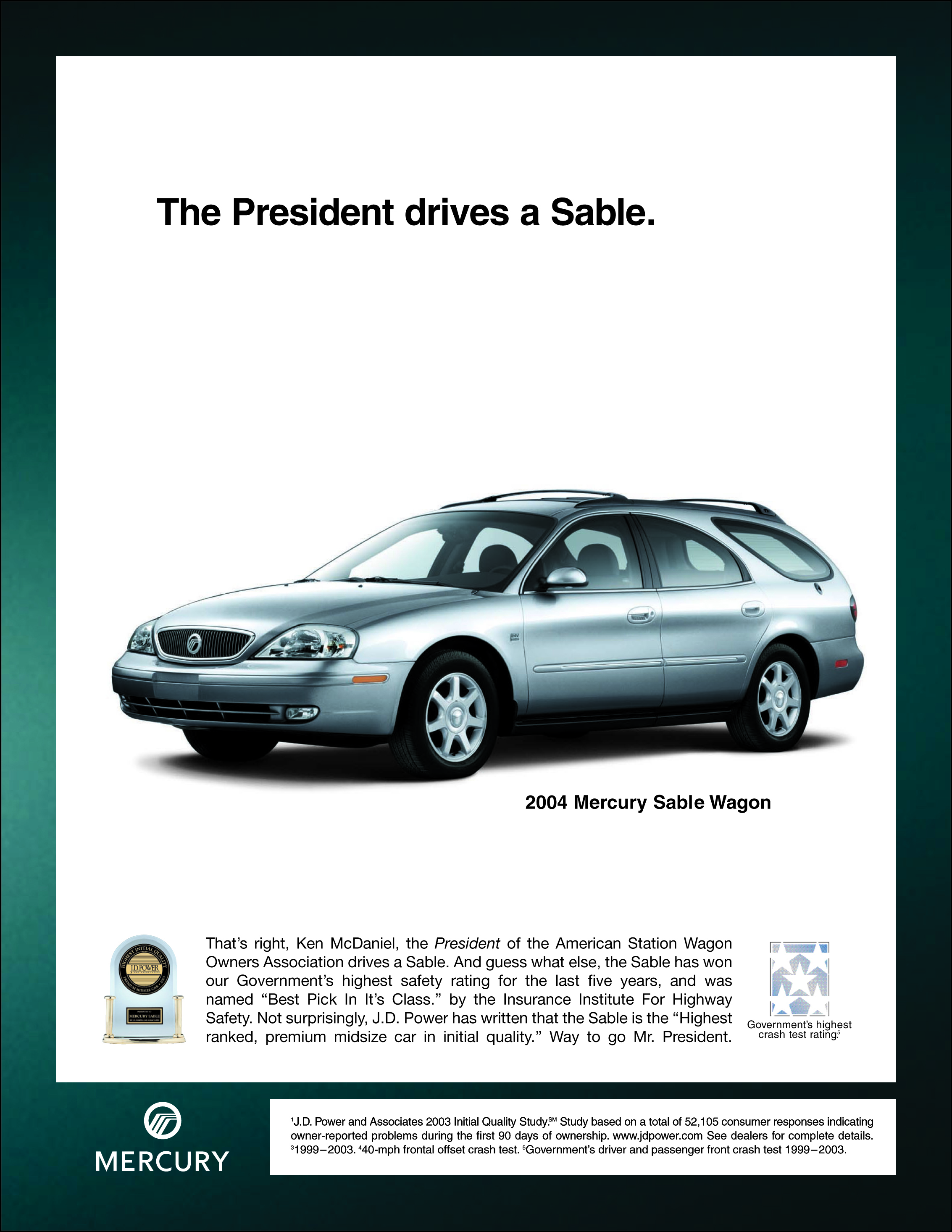 Mercury Motor Company
The President drives a Sable.
That's right, Ken McDaniel, the President of the American Station Wagon Owners Association drives a Sable. And guess what else, the Sable has won our government's highest safety rating for the last five years, and was named "Best Pick In Its Class" by the Insurance Institute For Highway Safety. Not surprisingly, J.D. Power has written that the sable is the "Highest ranked, premium midsize car in initial quality."
Way to go, Mr. President.
Look at this wagon, an '04, I was kinda stumped on how to sell this car at first. During my research [googling "station wagon heroes and fame."] I discovered Ken, who, to my delight, drove a Sable. Unbelievable. After that, this pre-election, full-page newspaper ad wrote itself. It was insanely timely and a great way to introduce this car's governmental accolades.
Travel New Zealand
Do it for a for a day, talk about it forever.
Unforgettably amazing. That's New Zealand, a recreational paradise with everything from magical, alpine trekking to pristine, white-sand beaches. This is a land where you can pack a lifetime of amazing into every day.
New Zealand is an amazing place. A place so awesome that if you're lucky enough to go there, then you'll gushing about it every time the talk turns to traveling. Word of mouth. That was the idea I wanted to get across, that and the FOMO and envy of course, something that all travel ads evoke.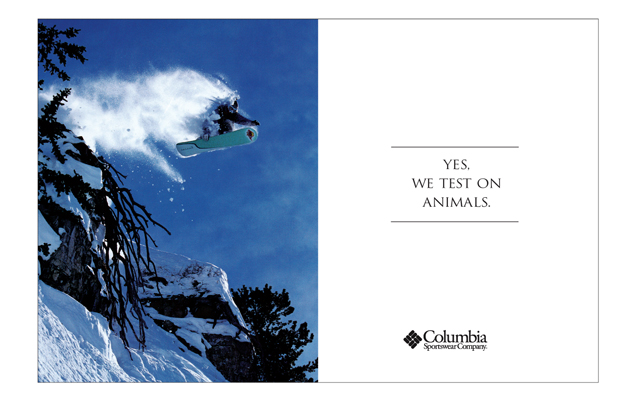 Columbia Sportswear
YES. WE TEST ON ANIMALS.
This series is a POS winter campaign. The ask was for "inspirational" signage. They loved this line so much that it was featured on their homepage for well over a year, back before they began selling direct to the public, when their website was just like this one.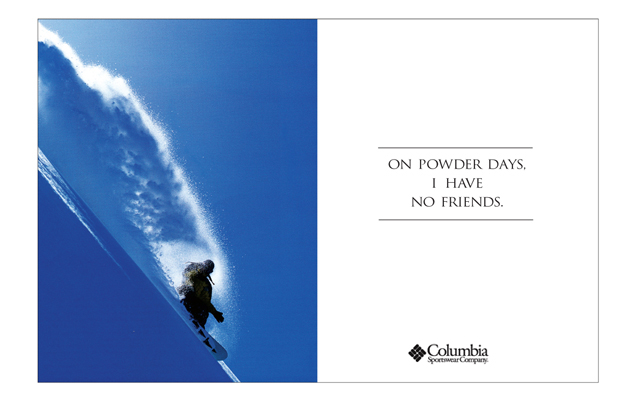 Columbia Sportswear
ON POWDER DAYS I HAVE NO FRIENDS.
I stole this line while on a lift and overhearing two kids talking about ditching their friend. I had done the same thing to my dad. This work is so old, now this phrase is everywhere. But way back then, this line was fresh. The client loved it.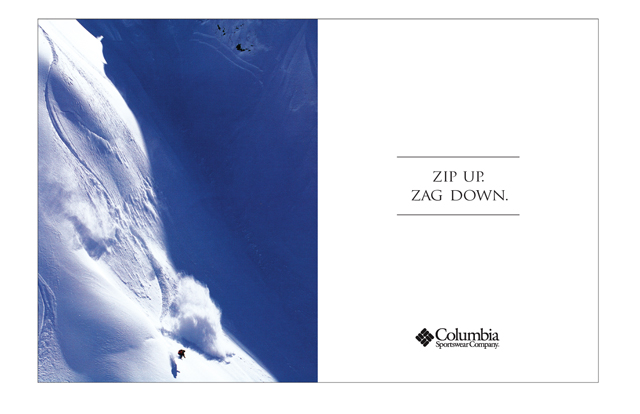 Columbia Sportswear
ZIP UP, ZAG DOWN.
A lot of stores just carried Columbia's jackets and nothing else, so we were asked to come up with something that could live with only jackets.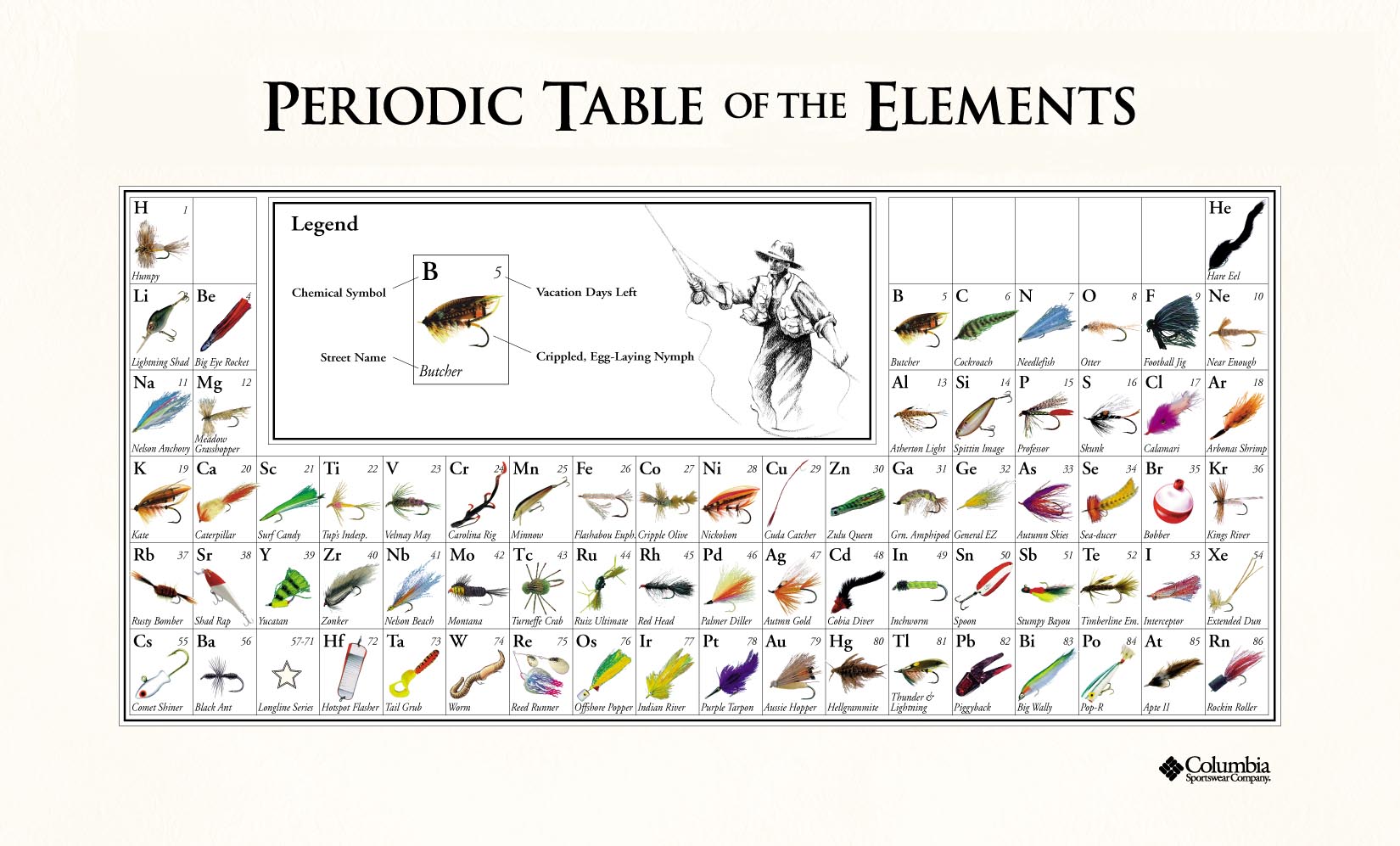 Columbia Sportswear
PERIODIC TABLE OF THE ELEMENTS.
Columbia wanted to sell more of their fishing gear at the flagship store and wanted to do a give-away, something simple for buys over 50. They suggested t-shirts or mugs, but my partner and I suggested a "groovy poster" that could very well get put on a wall in a cabin where it might stay for 20 or 30 years.
This promo was insanely successful and the print later became a T-shirt and is, to this day, by far, not even close, the number one selling t-shirt they sell. You can buy one right now, online. Twenty. Years. Later.
Park City Mountain Resorts
THIS IS WHERE "REMEMBER WHEN" HAPPENS.
Creating memories that last a lifetime since 1965.
I can write to this audience, too. In fact, this national print ad, and the one it ran with, won gold in its category. But I am the first to admit that my competition wasn't that great. But my client, and my client's client loved it and we continue to work together.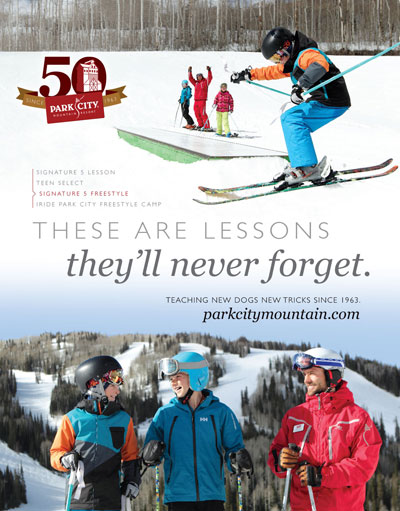 Park City Mountain Resorts
THESE ARE THE LESSONS THEY'LL NEVER FORGET.
Teaching new dogs new tricks since 1965.
I don't have kids, but if I did, I'd get this ad.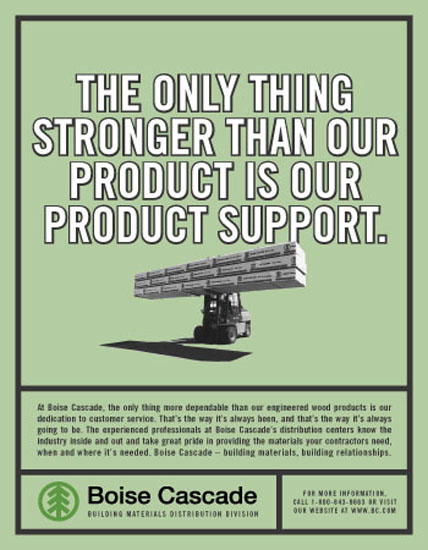 Boise Cascade
THE ONLY THING STRONGER THAN OUR PRODUCT IS OUR PRODUCT SUPPORT.
At Boise Cascade, the only thing more dependable than our engineered wood products is our dedication to customer service. That's the way it's always been, and that's the way it's always going to be. The experienced professionals at Boise Cascade's distribution centers know the industry inside and out and take great pride in providing the materials your contractors need, when and where it's needed. Boise Cascade—building materials, building relationships.
The client loved how the line and the simple graphic worked together, it was the first print ad where they didn't change a single word. It was the first ad I wrote for them, and my first B2B work.
William Henry
A MILLION YEARS AGO TODAY
Working with the unique fossils of beasts that roamed the earth millions of years ago ensures that every piece is unmatched, original and timeless, just like the you.
I worked with BP&N this summer and created the following campaign for William Henry with Ryan and Rob, their in-house AD and ECD.
For thousands of years such things as crowns, shields, suits of armor and spears were a direct reflection of those who owned them, they had true meaning in a world where survival was the only thing that ever mattered.
Now days it's the common, mass produced logos, labels and all things ephemeral that are passing as badges of credibility, status and success.
Every day another something is climbing the pop charts while the struggle for true meaning grows increasingly difficult. It's a battle between our primal and modern selves.
It's also the inspiration behind everything William Henry makes.
Their artists work in ancient traditions, using rare-earth elements that fell from space, erupted from the peaks, and at one perfectly pure time, ruled the earth.
The result are one-of-a-kind pieces that connect us to our common past, yet separate us from our common man.
And that is the story this campaign was created to tell.
William Henry
FROM EXTINCTION, TO DISTINCTION.
When your raw materials include fossilized mammoth tooth, every finished piece is one of kind, just like the men who choose to wear them.
William Henry
FROM THE EARTH'S CORE, TO YOUR CORE.
No two volcanoes are the same, like some men, they are rugged, timeless and impossible to stop, each bringing relentless energy and fire into existence.
William Henry
IT DOESN'T TELL TIME, IT IS TIME.
44 million years in the making, its unique qualities, character and glow set each piece apart from all the others. Sound like anyone you know?
Lombardi Sports, SF
TIME TO GO CAMPING?
I was freelancing at Siedell O'Neil in SF and my partner, their in-house AD, Diane insists I write to THIS stock photo. I say, "You know it's going to piss people off, right?"
"I fucking hope so" she said.
I still can't believe the client bought it, it was on every bus and bus shelter in town, and was all set to be painted on a wall. Until old-man Lombardi himself saw it. Boy was he pissed. I think his son got grounded. Anyway, I had never written a wall, but this was my first work to be banned. So that's a win in this book. It made the papers and got some extra attention, all for free.
print